I am determined to finish blogging the Greece vacation, even if it takes me all summer!
Thursday May 22, 2008
This morning we got up and got ready to go to another buffet breakfast at the hotel.  On our way out of the hotel room, "we" (really Dad, but who's pointing fingers?) forgot the key was in the lock on the inside of our (extremely old) door, and when "we" closed the door, we were automatically locked out.  And because the key was in the hole on the inside, the master key that the receptionist had wouldn't work from the outside!  Uh-oh…That was the start of our day.
Our plan was to check-out after breakfast and then go to the Palace of Knossos, leaving our luggage at the front desk until we got back in the afternoon.  Then we would go to the airport to catch our early evening flight to Rhodes.  Now that our luggage was locked in our room, we had to be flexible about our plans.  (Let's go, Locksmith!  You can do it!)
We had breakfast and then went to the Palace of Knossos (by way of rip-off taxi #5).  This is a Minoan palace, estimated to have been built as early as 2000 B.C.  And according to Greek mythology, it is the labyrinth that was home to the Minotaur.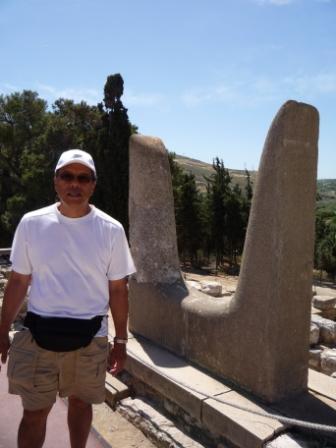 After we had our fill of the really really old palace, we went back to our hotel to see what was going on with the lock situation. Fortunately our room was unlocked and our lugguage was free to come with us to Rhodes. We said goodbye to Arolithos and Crete, and were ready for our next and final stop of the vacation – Rhodes.
It was just a short flight from Crete to Rhodes, and instantly out of the airport we were liking Rhodes…Taxi fares are posted on signs in the airports and all over Rhodes, so we no longer had to deal with the rip-off taxi drivers. Once we got into the Old Town our taxi driver dropped us off as close as he could to our hotel, but because the streets are so narrow, he couldn't take us to the front of the hotel. We were wandering around the cobblestone streets, where we couldn't really roll our luggage, lost and incapable of finding our hotel.
I asked a gentleman standing in front of his bar if he knew where the Camelot Hotel was, but he didn't recognize the hotel name or the street name I had for it. So he had his friend call the phone number for us. And then when they figured out which direction it was, they started walking us there. And on our way, another man working at a restaurant we passed insisted on carrying our bags for us. This was such an inviting welcome for us, especially after our rough morning in Crete.
We met Nina, owner of the small and oh so charming Camelot Hotel. She showed us our room and we just loved how cute it was! She brought us up some ice cold refreshments while we settled in and freshened up before dinner.
Mom was too pooped to go out for dinner, so Dad and I headed down the cute cobblestone street to Romios, based on Nina's recommendation. It was fabulous! We had the sea salad, stuffed eggplant, the Greek variety platter, and pastitsio (baked macaroni and ground beef in a bechamel sauce). Yum! To top off our night, they gave us dessert on the house – chocolate mousse with whipped cream sprinkled with cocoa krispie thingees. We brought back a lot of leftovers for mom and even though she didn't think she was hungry she scarfed down the entire thing!